Snow for ServiceNow

Everyone loves out-of-the-box functionality. But what if the box is just a box; empty inside?
It's a dilemma familiar to ServiceNow managers and admins around the world, as they seek to implement fundamental ITSM and Software Asset Management must-haves:
Product Catalog (software & hardware models)
Service Catalog (self-service software request)
Request Process Support
Effective CMDB
Software License Optimization
Snow for ServiceNow helps organizations of all shapes and size avoid the need to contract hundreds of hours of expensive consultancy time by offering the automation that doesn't come as standard.
POPULATING THE PRODUCT CATALOG – SOLVED
There are two ways to create the hardware models, software models and counters needed to populate the ServiceNow Product Catalog: pay for upwards of 200 hours of consulting services to do it manually or have Snow for ServiceNow now do it for less cost and in a fraction of the time.
What's more, that one-time investment in Snow for ServiceNow keeps the Product Catalog continually updated as your IT estate evolves, with no additional consultancy fees.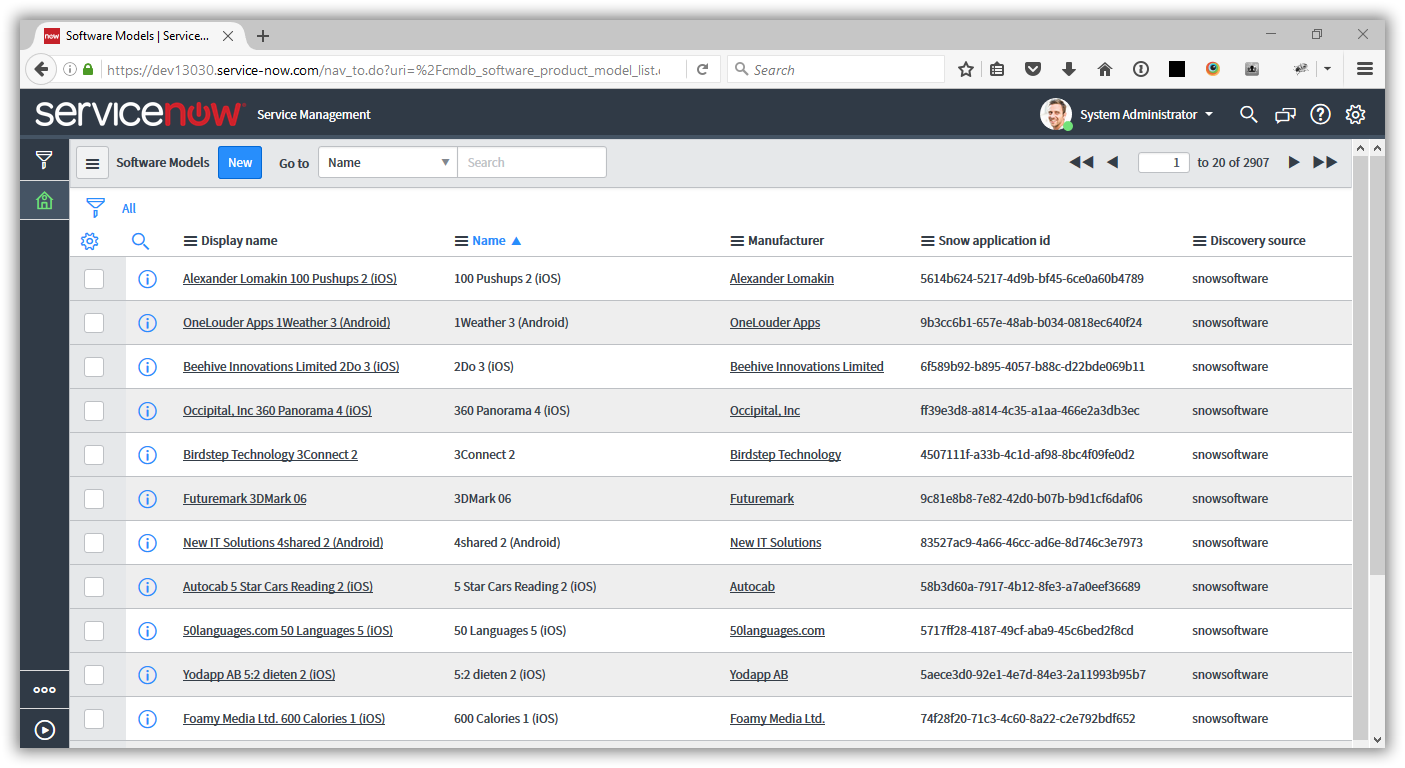 CREATING THE SERVICE CATALOG – SOLVED
Self-service creates happier, more productive employees. But self-service doesn't work without the data and processes in place to ensure the Service Catalog is populated with the right options and that software is only deployed when licenses are available.
Snow for ServiceNow makes creating the Service Catalog quick and easy, minimizing costly consultancy time and creating a solution that is easy to maintain and adapt to changing IT needs.
SUPPORTING THE SOFTWARE REQUEST PROCESS – SOLVED
As employees consume more software, it is vital the organization ensure this usage is in line with entitlements. Failure to do so can result in costly compliance issues.
Snow for ServiceNow automatically populates the ServiceNow interface with the SAM intelligence necessary to accurately determine the current license position, accelerating the process of fulfilling software requests while maintaining compliance.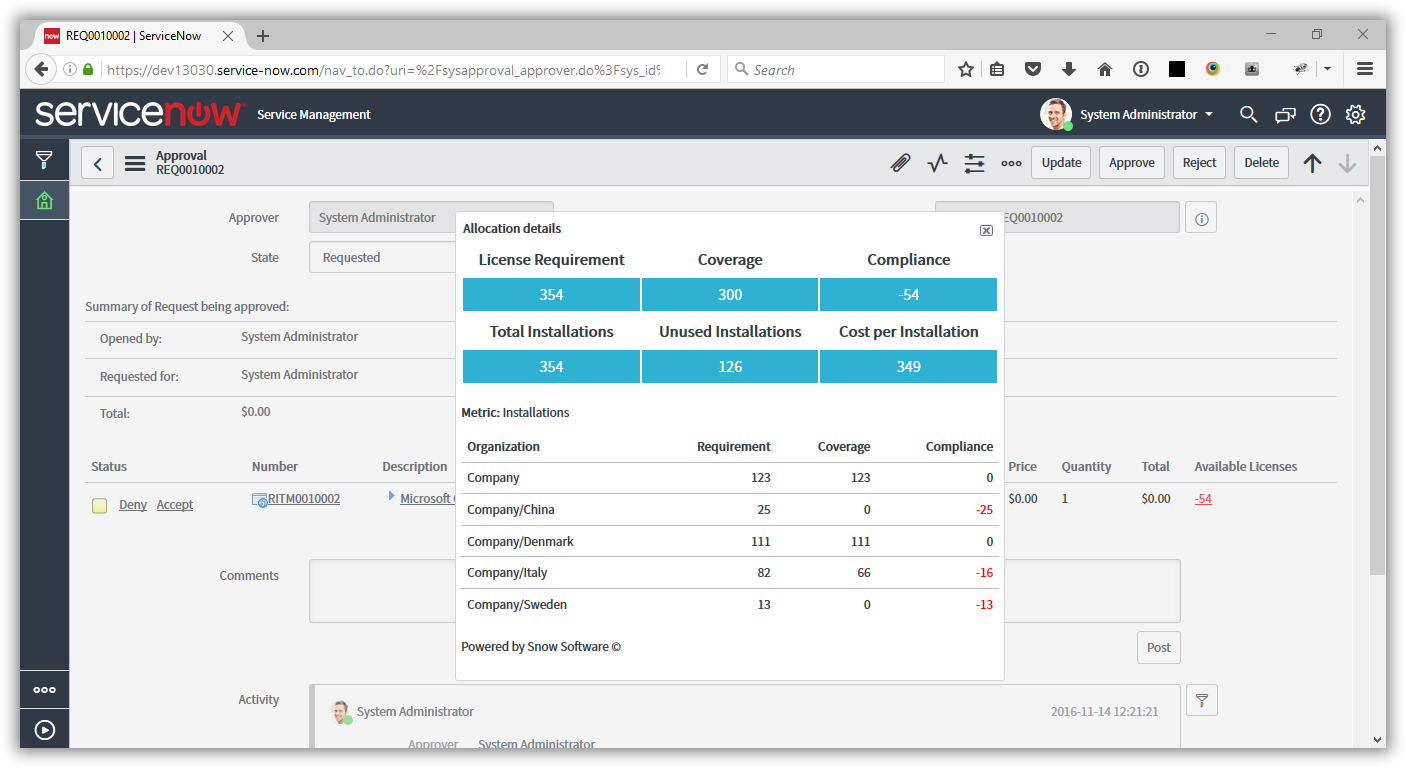 BUILDING AN EFFECTIVE CMDB – SOLVED
A clean and comprehensive CMDB accelerates problem resolution times and drives better decision-making on managing IT investments and risks across the organization. Unfortunately, 85% of CMDB projects fail due to bad data.
Snow for ServiceNow populates the ServiceNow CMDB with cleansed and normalized data incorporating all IT assets (hardware and software) across all IT platforms in use by the organization.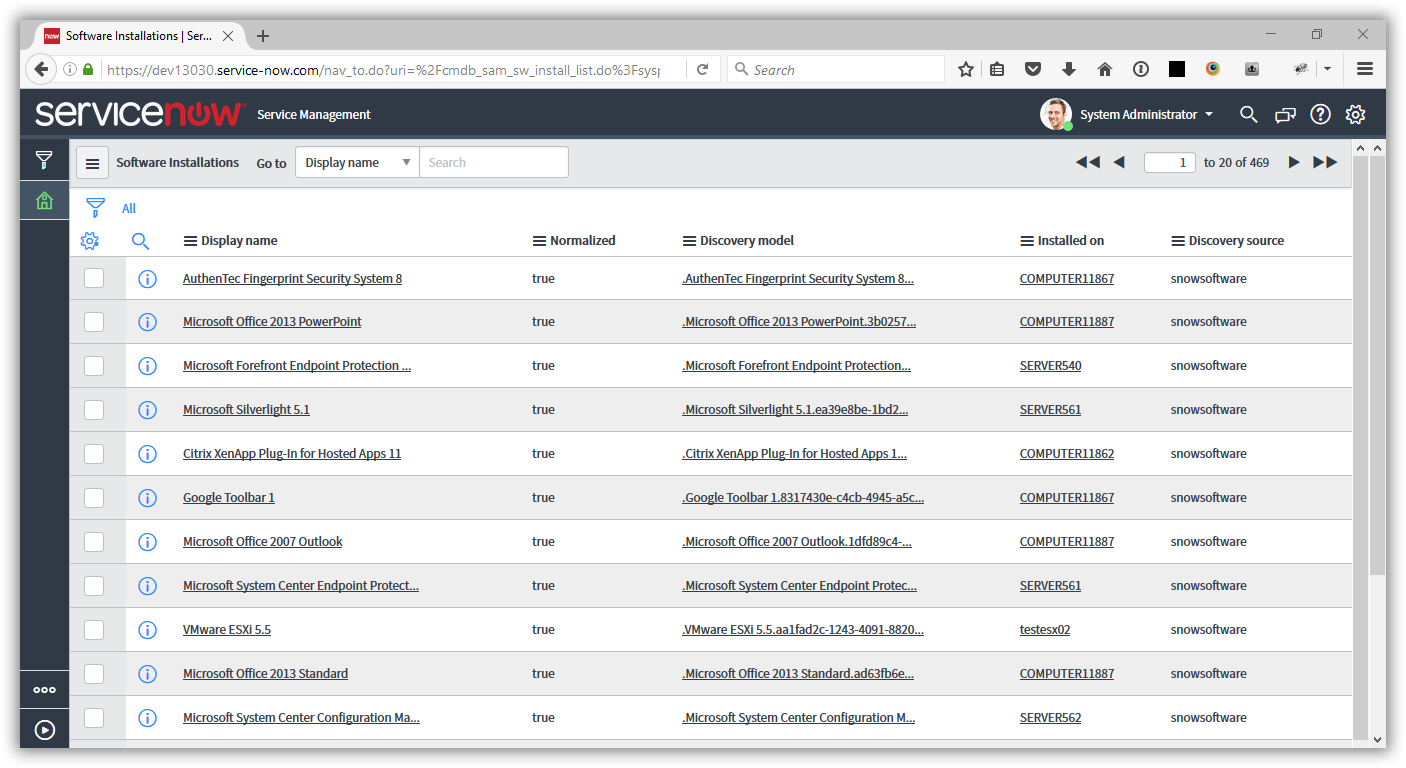 SOFTWARE LICENSE OPTIMIZATION – SOLVED
Snow for ServiceNow's real value lies not just in the integration, but in the ability to optimize the software position so that the organization's Effective License Position for key vendors is as good as it can be.
Snow's fully featured SAM suite makes it easier to manage software licensing for all key vendors and platforms, from desktop and mobile apps from the likes of Microsoft and Adobe to datacenter applications and databases from IBM, Oracle and SAP.
DE-RISK YOUR SERVICENOW IMPLEMENTATION WITH SNOW
Implementing ServiceNow is a big, expensive project. Don't let the lack of out-of-the-box functionality limit your ability to drive ROI. Snow for ServiceNow is the key to creating a CMDB, Product Catalog and Service Catalog as quickly as cost-effectively as possible.
KEY BENEFITS:
Faster implementation
Lower consultancy costs
Greater ServiceNow ROI
Wider ServiceNow adoption
Drive data-based decision-making
Exceed service level targets