CyberMAK Information Systems recognized as the "Robotic Process Automation – Growth Partner of the Year in Telecoms" by Automation Anywhere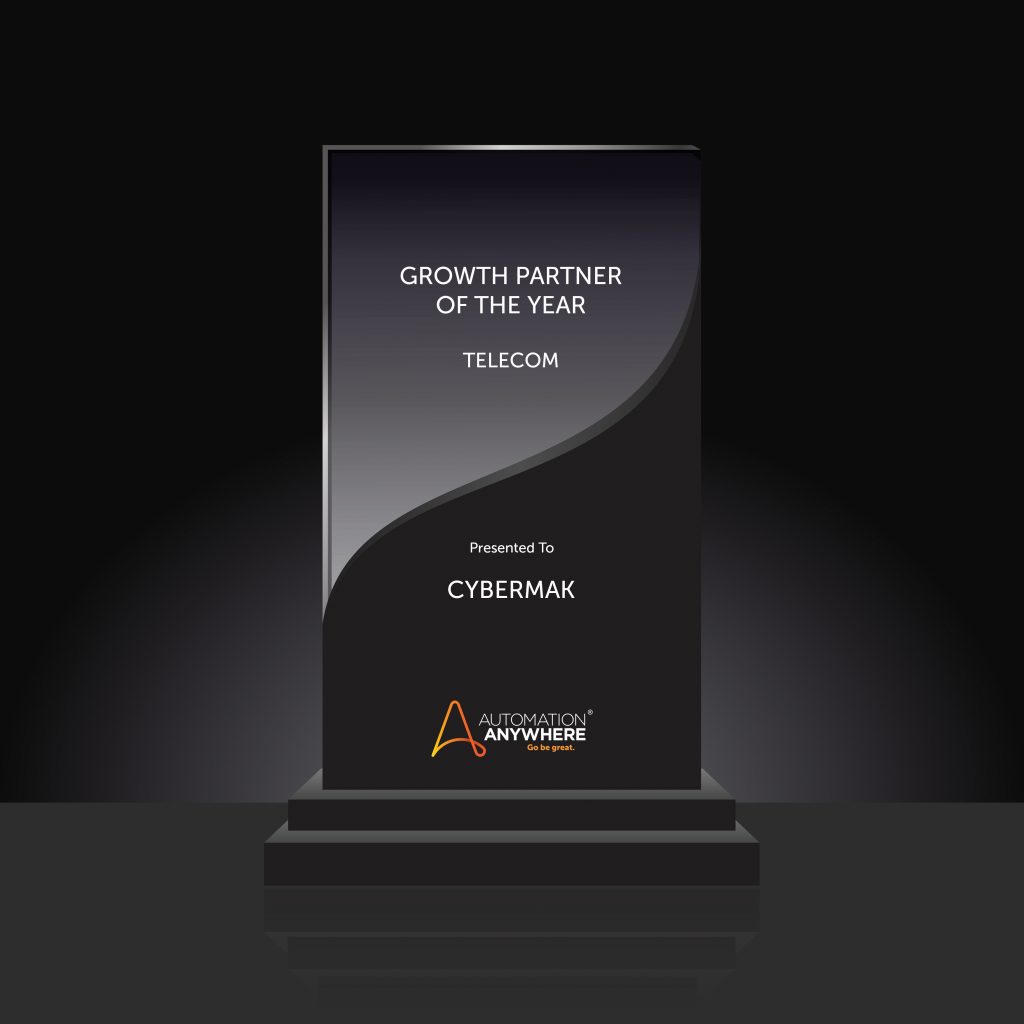 Automation Anywhere recently announced that CyberMAK Information Systems has been awarded as "Growth Partner of the Year – Telecom" as a part of their prestigious IMEA Partner Awards.
CyberMAK is certified as an Automation Anywhere "Centre of Excellence" for Digital Strategy and Automation with a massive global team of RPA certified professionals. CyberMAK has deployed digital workers for numerous enterprises across diverse industries that have exponentially increased efficiencies for various business functions within organizations. Automation is key in the telecom sector since telecom operators deal with enormous amounts of data, multifaceted technologies  supporting their OSS/BSS environments, a large of supply chain which includes a complex network of partners and contracts, and the need to always enhance customer experience through service delivery. CyberMAK's process experts in telecoms have helped Telecoms accelerate their desired automation outcomes through business process optimization and digital worker.
Empowered by the digital workforce, CyberMAK adds value to enterprises by reducing the total time taken to perform multiple complex tasks across a manifold of systems. The number of employees engaged in a complex task are reduced to 1 bot, letting the human resource focus on other strategic initiatives. With bot implementations, CyberMAK has supported several enterprises to face these issues in real-time at lower costs. With many such RPA implementations, case studies and cognitive automation initiatives, CyberMAK was recognized as the "Growth Partner of the Year – Telecom" by Automation Anywhere.
This Partner Award is a testament to CyberMAK's vision and leadership in the intelligent automation category. Through this partnership, CyberMAK has empowered large enterprises in the telecom sector with an intelligent and intuitive RPA platform that has liberated them from complex time-consuming tasks allowing them to address other strategic business initiatives and have successfully created business value for the end customer through innovation, keeping customer experience at the center.
About Automation Anywhere:
Automation Anywhere is a global leader in Robotic Process Automation (RPA), empowering customers to automate end-to-end business processes with software bots (digital workers) that perform repetitive and manual tasks, resulting in dramatic productivity gains, optimized customer experience and more engaged employees. The company has also been recognized as Leader in the Gartner 2020 Magic Quadrant for RPA for the 2nd consecutive year and is positioned furthest for Completeness of Vision in the Leaders' quadrant. Automation Anywhere offers the world's only web-based and cloud-native intelligent automation platform combining RPA, artificial intelligence, machine learning and analytics. Their Bot Store is the world's first and largest marketplace with more than 1,000 pre-built, intelligent automation solutions. With a global network of 2,000 partners, Automation Anywhere has deployed over 2.4 million bots to support some of the world's largest enterprises across all industries and geographies. 
About CyberMAK Information Systems:
CyberMAK Information Systems is a global leader in digital transformation. With automation being one of its key strengths, CyberMAK has combined AI, ML and cognitive capabilities enabling large organizations to digitally transform by reducing operational cost and increasing efficiency. CyberMAK Information Systems has been empowering large enterprises on their digital transformation journey since 23 years and is renowned for its continued success and ability to deliver value globally. Led by our multinational leadership teams with business and domain expertise in Automation, AI & Machine Learning, IoT, SecOps, Software Asset Management, Multi-Cloud Management, Risk Assessment, ITSM, Storage, Big Data, Conversational AI Chatbot, Privilege Access Management and much more, we have contributed to the success of over 150 customers with 3000+ successful engagements in more than 16 countries. Driving digital transformation projects for clients, CyberMAK adds business value, minimizes risk and helps optimize quality, performance and costs in various industry verticals such as Banking, Telecom, Retail, Oil & Gas, Education, Government, etc. all of which gives companies competitive advantages, heightens customer experience has a direct positive impact on a their bottom-line and increases brand equity.